A unique experience in Santorini
Nostos Apartments is a luxury boutique hotel in Santorini situated in Oia, the most famous settlement of the island. Its unique location provides a spectacular unobstructed view to the volcano and the infinite blue horizon of the Aegean Sea. The magnificent oasis of relaxation and rejuvenation that unfolds in front of you, allows mesmerizing views from a romantic retreat, ideal for couples. Our luxury apartments offer an intimate adults-only escape, assuring the ideal seclusion for those who seek privacy and serenity. No matter if you are a lover of luxurious indulgences or you simply desire to explore extraordinary experiences, Santorini enables you to live the authentic adventure amid the unforgettable magic of nature unspoiled. Nostos Apartments provides personalized services at a great value for money that will guarantee an unprecedented stay at Oia's luxury suites!
A PLACE TO HIDE
Couples rated it 9.7
for a two-person trip.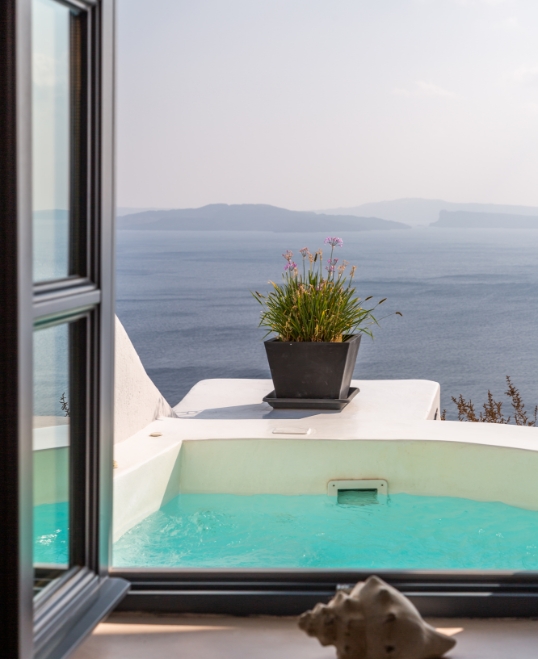 A breathtaking view to Caldera
Oia is the most picturesque village of Santorini with a traditional character. It is located 11km away from Fira, the capital of the island. Oia's castle is the most popular spot of Santorini, where you will appreciate the splendor of the sunset. Some kilometers away from Oia, there are several beaches included Katharos, Baxedes and Colombus which can be reached either on foot or by vehicle.
Santorini is world-renowned for its spectacular sea-filled volcanic caldera surrounded by steep colorful cliffs, the beauty of its uniformly white-colored houses and magnificent fields. Caldera is a huge crater and it is considered as one of the most magnificent spectacles on the island. Nostos Apartments are a natural window towards the Caldera and Oia's mesmerizing sunset that will offer you the most remarkable luxury holidays in Santorini!